How to Convert HEIC Images to JPG with Star Watermark
What is Heic File
HEIC (High Efficiency Image Format) is a file format used for storing images. It is a container format for images that employs advanced compression algorithms to achieve high image quality while keeping the file size relatively small. HEIC was developed by the Moving Picture Experts Group (MPEG) as part of the High Efficiency Video Coding (HEVC) standard.
HEIC files use the HEVC (H.265) codec for image compression, which provides better compression efficiency compared to older formats like JPEG. This allows HEIC files to store high-quality images with reduced file sizes, making them ideal for saving and sharing photos on devices with limited storage capacity or slower internet connections.
HEIC files can store various types of image data, including multiple images, transparency information, and metadata such as EXIF data. They support features like lossless and lossy compression, alpha channels, and 16-bit color depth.
HEIC is the default image format used by Apple on iOS devices since iOS 11 and macOS devices since macOS High Sierra. However, it may not be widely supported on all platforms and applications, particularly older devices and software versions. Many modern devices and software have added support for HEIC, but compatibility can vary, and converting HEIC files to more widely supported formats like JPEG is sometimes necessary for broader compatibility.
If you own an iPhone, you may be familiar with the HEIC/HEIF image format. HEIC is the default image format for iOS devices, offering several advantages such as smaller file sizes and better image quality. However, compatibility can be an issue when sharing or using HEIC images on non-iOS platforms. To overcome this, converting HEIC images to more widely supported formats like JPEG or PNG becomes necessary.
Step-by-Step Guide to Convert HEIC/HEIF Images to JPG
Step 1: Download and Open Star Watermark
Start by downloading and installing Star Watermark on your computer. Once installed, launch the software and add the HEIC images you want to convert. Star Watermark supports batch processing, allowing you to convert multiple HEIC/HEIF images simultaneously.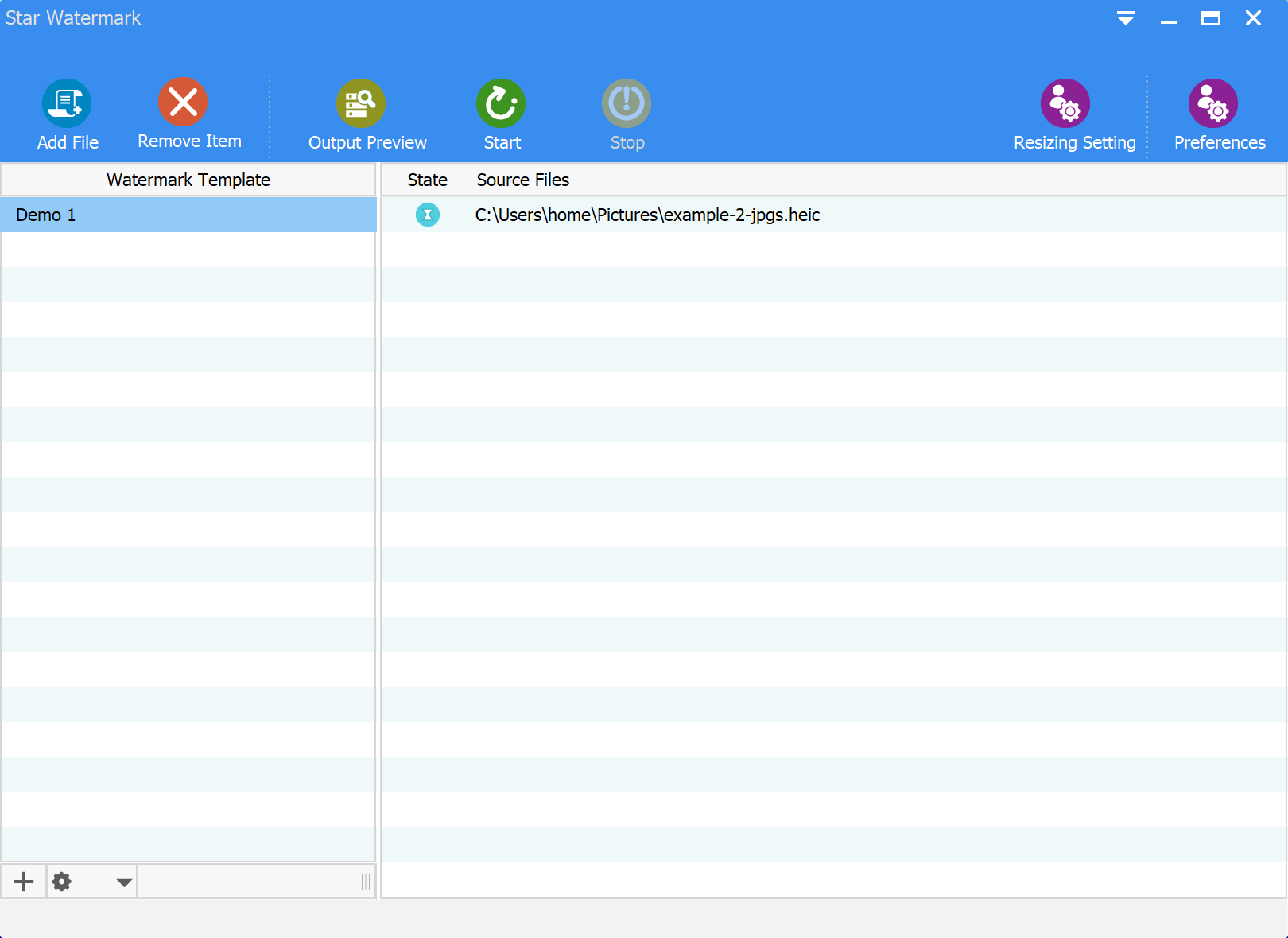 Step 2: Customize Watermark (Optional)
In the left sidebar of the software interface, double-click on the desired watermark template to open the "Edit Watermark Template" window. In this window, you have the option to add text or image watermarks. However, if you only intend to convert the HEIC images without adding any watermarks, you can simply leave the text watermark field blank to hide the watermark.
Step 3: Start the Conversion Process
Click the "Start" button on the toolbar to initiate the batch conversion of your HEIC images. Star Watermark will convert the selected HEIC/HEIF images to JPG format, ensuring compatibility and ease of use across different platforms.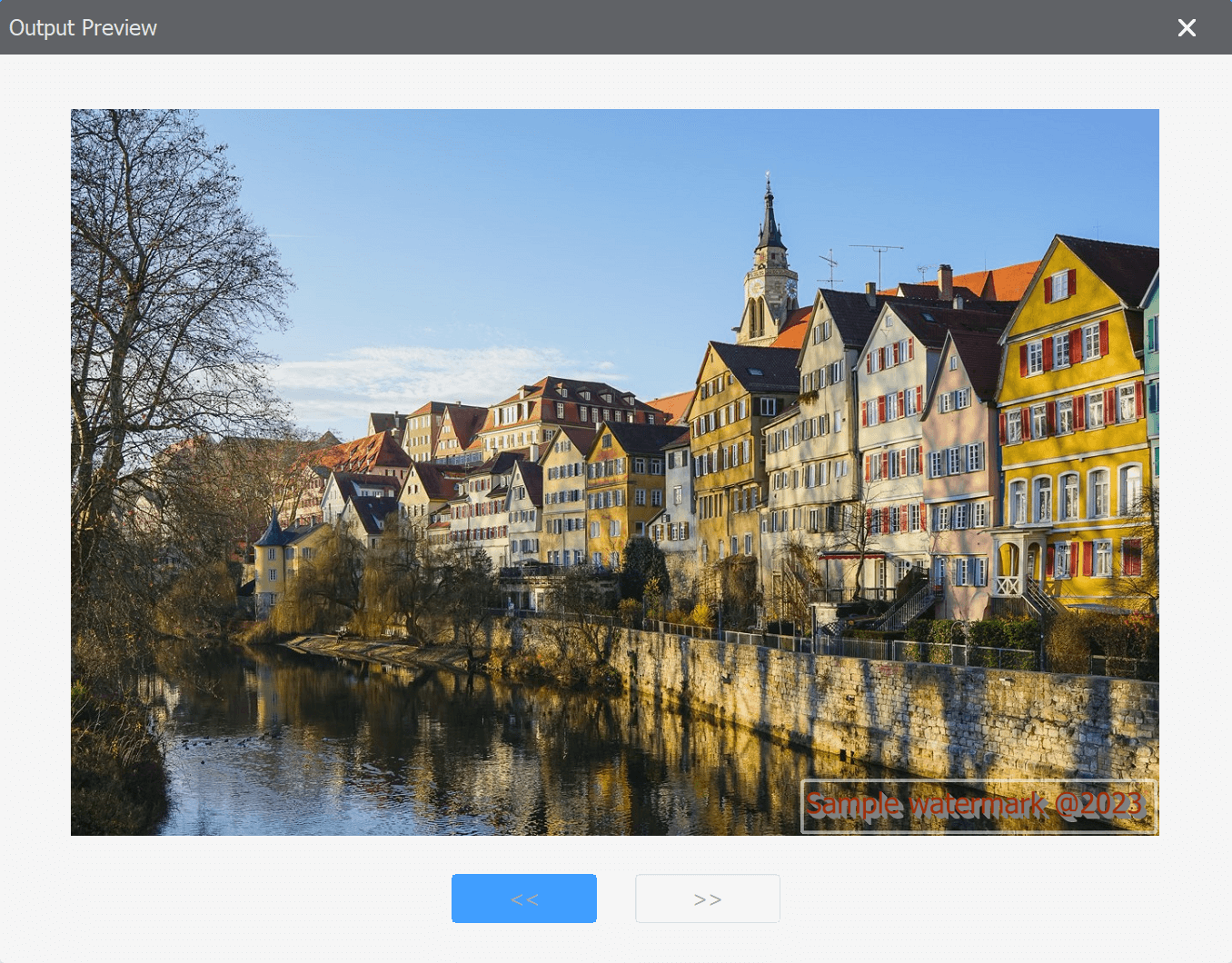 With Star Watermark, converting your HEIC/HEIF images to the widely supported JPG format is a breeze. Preserve the quality of your images while ensuring compatibility with non-iOS platforms. Don't hesitate, download Star Watermark now and experience the convenience of converting HEIC/HEIF images to JPG format.