About Star Watermark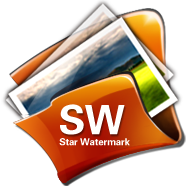 Star Watermark for Mac is a batch watermarking pictures software for Mac. It is a professional picture watermark sofeware, easy-to-use. With Star Watermark, you can add watermark (text, image, logo...) to your pictures quickly and easily.
It is easy to make watermark and watermark for photos, protect your photo safety, and avoid them from unauthorized use. Star Watermark can quickly add watermark to photos in batch mode. We understand that you don't want to spend your precious time and energy designing to adjust watermarks for each photo. Now let's try! (free watermarks software for Mac)
Want to protect your images on the network will not be stolen it? use Star Watermark for Mac now! It can help you add pictures to produce their own type or image type more text watermark to prevent the crystallization of your hard work stolen by others. With the watermark creator freeware, you can easily protect your digital photos by creating a TEXT or IMAGE watermark. Furthermore, Star Watermark feature is very powerful, the watermark is divided into two types, a text watermark, as well as the image watermark, Star Watermark can be added in addition to these two, when it comes to adding watermarks can add anything you want.