Top 10 Apps for Resizing Photos on Windows
If you frequently work with digital images, you understand the importance of resizing photos. Whether it's for optimizing images on websites, blogs, or social media, or saving storage space, resizing is a crucial step in the editing process. In this article, we will explore the top 10 apps for resizing photos on Windows.
1. Photos
The native Photos app on Windows 10 offers a simple way to resize images. To resize an image using the Photos app:
Open the image in the app and click on the More Options button (three dots) in the top right corner.
Select Resize and choose from preset sizes or enter custom dimensions.
While Photos provides basic resizing functionality, it lacks the ability to process multiple files simultaneously.
2. Star Watermark
In addition to resizing photos, you may also want to consider adding watermarks to protect your images. Star Watermark is a versatile software available for both Windows and macOS that allows you to batch watermark your resized photos. With Star Watermark, you can create watermark templates, compress images, resize images, convert image formats, and preserve image metadata. It supports various image formats such as BMP, JPG, PNG, and TIFF, and provides advanced customization options for watermark placement, transparency, and font style.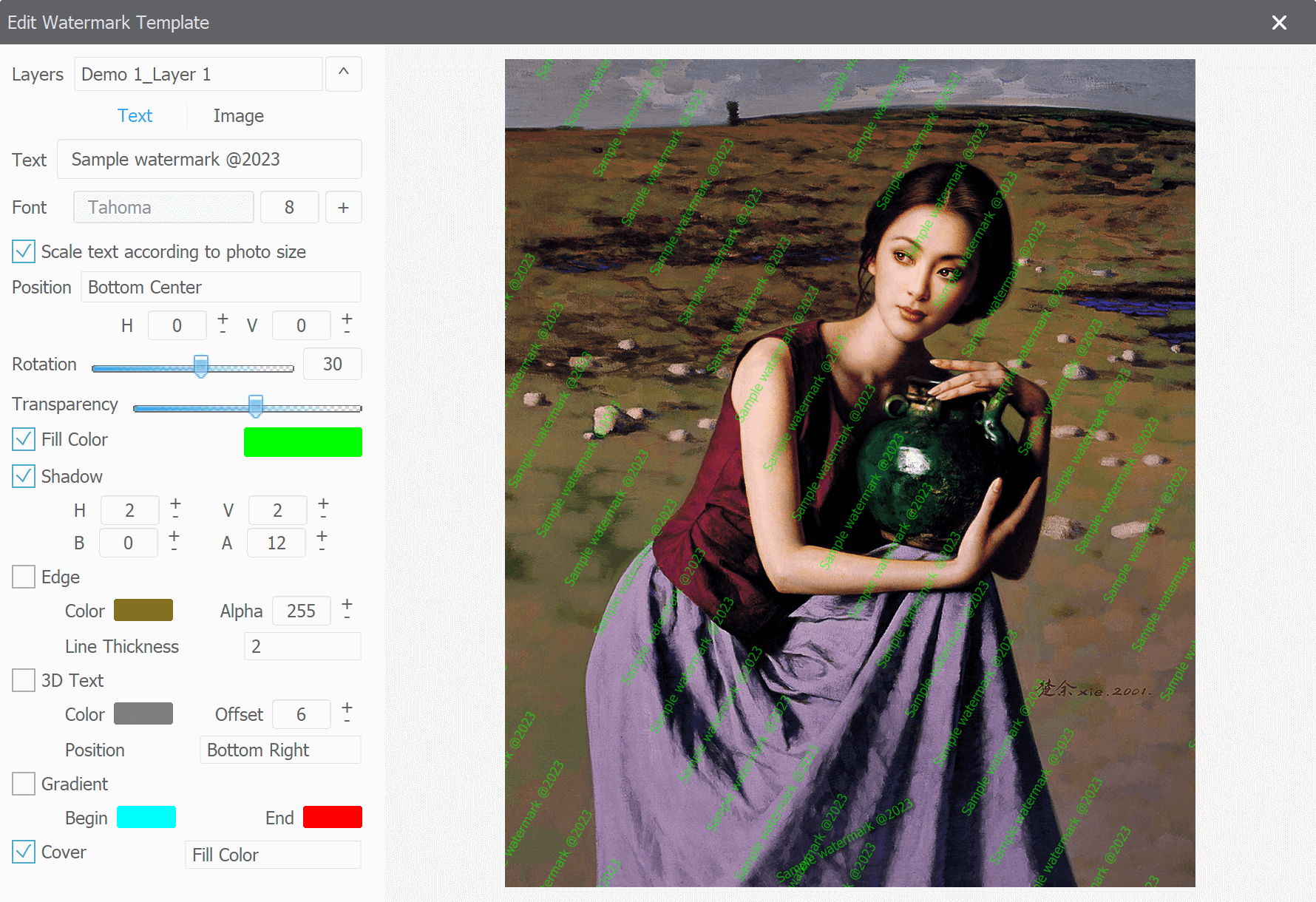 3. PhotoSize
If you prefer an online tool for resizing photos, PhotoSize is a convenient option. Without the need for software installation, PhotoSize allows you to make your photos smaller quickly. Add multiple files and select the desired dimensions, either from preset sizes or by manually entering custom values. PhotoSize also offers features like cropping, rotating, adjusting contrast, brightness, saturation, and applying artistic effects.
4. Fotosizer
Fotosizer is a user-friendly Windows tool specifically designed for reducing photo size. Its intuitive interface makes it easy to resize images. Simply select your images on the left side and choose from the available features on the right side. Fotosizer offers multiple resizing options, including percentage, width, height, and longest side. It also supports batch processing, allowing you to resize multiple images simultaneously.
5. Light Image Resizer
Light Image Resizer is a popular Windows app for resizing photos. It offers a simple interface and supports batch processing. With Light Image Resizer, you can resize images using pixels, percentage, or specific dimensions. The app also provides options to compress images while maintaining quality, rename files, and add watermarks.
6. Resize Sense
Resize Sense is a flexible app for resizing photos on Windows. It allows you to resize images individually or in batch mode. The app offers various resizing options, including percentage, width, height, longest side, and custom dimensions. Resize Sense also provides options for cropping, rotating, and renaming files. It supports popular image formats and retains image quality during resizing.
7. FastStone Photo Resizer
FastStone Photo Resizer is a feature-rich application for resizing, convertingand renaming photoson Windows. It supports batch processing and offers a wide range of resizing options, including pixels, percentage, and specific dimensions. FastStone Photo Resizer also allows you to add text, watermarks, and borders to your images. The app has a user-friendly interface and provides advanced features like color adjustment, cropping, and rotation.
8. IrfanView
IrfanView is a popular image viewer and editor that also includes resizing capabilities. With IrfanView, you can resize images individually or in batch mode. The app supports various resizing methods, such as pixels, percentage, and custom dimensions. It also offers additional features like cropping, rotating, and applying filters to enhance your photos.
9. Paint.NET
While primarily known as a versatile image editing software, Paint.NET also provides resizing functionality. With Paint.NET, you can resize images using pixels or percentage. The app offers options to maintain aspect ratio and resampling methods for high-quality results. Paint.NET also includes other editing features like cropping, rotating, and adjusting brightness and contrast.
When it comes to resizing photos on Windows, these top 10 apps offer a range of features to suit different needs. Whether you prefer a simple native app like Photos or a more advanced tool like Star Watermark, you can find the perfect solution to efficiently resize and optimize your images.