Top 10 Apps to Watermark Photos on Mac
Watermarking images before uploading them online can bring you multiple benefits. No matter if you're a professional or amateur photographer, blogger, or design artist, adding a watermark to your original photos can turn out to be an inspired decision.
Star Watermark
Star Watermark is a powerful watermark app for Mac designed with batch processing capabilities. Easily handle multiple images at once and apply watermarks with just a few clicks. Customize your watermark text, logo, and appearance to protect your intellectual property.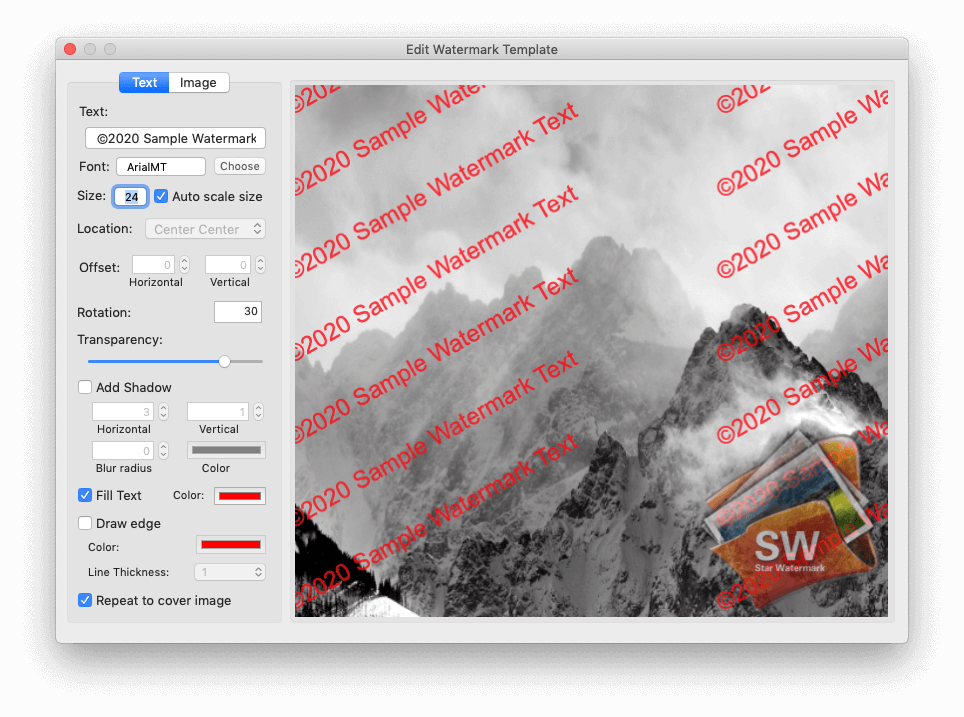 PhotoMarks
PhotoMarks is an efficient solution for batch watermarking on Mac. With its clean interface, you can quickly add text and logo marks to your photos. Customize their position, size, transparency, and apply special effects. The app also offers additional editing features like renaming, cropping, resizing, and more.
Watermark Plus
Watermark Plus provides various options for batch watermarking photos on Mac. Choose from copyright text, logos, EXIF data, or script watermarks. Customize the appearance of your watermarks and adjust their placement. The app also offers features like renaming, resizing, and converting images.
Watermark.ws
Watermark.ws is a browser-based solution for watermarking images, videos, and GIFs. No need to download or install a program on your Mac. Upload files from your device or import them from social media platforms. Customize your watermarks and enjoy additional editing features like cropping, resizing, and applying filters.
Mass Watermark
Mass Watermark is designed for quick and efficient protection of your images. Add text or logo watermarks to entire folders of photos. The app also includes editing features like resizing, rotating, cropping, and applying artistic effects. Share your watermarked photos directly on Flickr.
uMark
uMark is a versatile solution for watermarking multiple images on Mac. Protect and promote your photography with text, logo marks, QR codes, or shapes. Customize your watermarks with various options like placement, rotation, transparency, font styles, and colors. Save your commonly-used marks for easy retrieval.
WhatAMark
WhatAMark is a simple alternative for watermarking photos on Mac. Easily apply text or image watermarks individually or in bulk. Customize the font style, color, opacity, and size of your watermarks. Save your operations as presets and choose from various compression and quality settings.
Sizerox
Sizerox, although not specifically developed for watermarking, can still be used for this purpose. Add text and logo marks to your images and control their placement, size, transparency, and font settings. The app also includes features for renaming, resizing, cropping, and rotating images in bulk.