Star Video Watermark Support Center:
How to Register Star Video Watermark for Windows? >>
How to watermark a video - add text to videos with Star video watermark for Windows >>
How to watermark for video - add image watermark on videos with Star video watermark for Windows >>
Batch add watermarks to videoF files with Star video Watermark for Windows? >>
Why we need use video watermark software? >>
Why Choose Star Video Watermark for Windows? >>
Star Video Watermark Ultimate edition tutorial >>
Quick Start Tutorial:
Step 1: Launch Star Video Watermark Program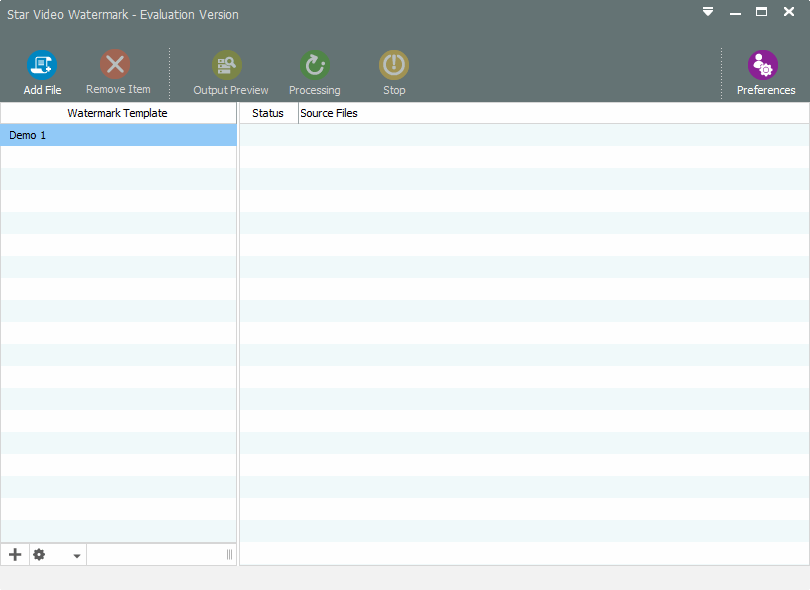 First, double-click the application directory in the "Star Video Watermark" icon to start the program. Started, you will see the main interface as follows:
In this interface, you will see a toolbar that contains some buttons on the top two default template on the left, and one for displaying the loaded image file list.
Step 2: Edit your custom template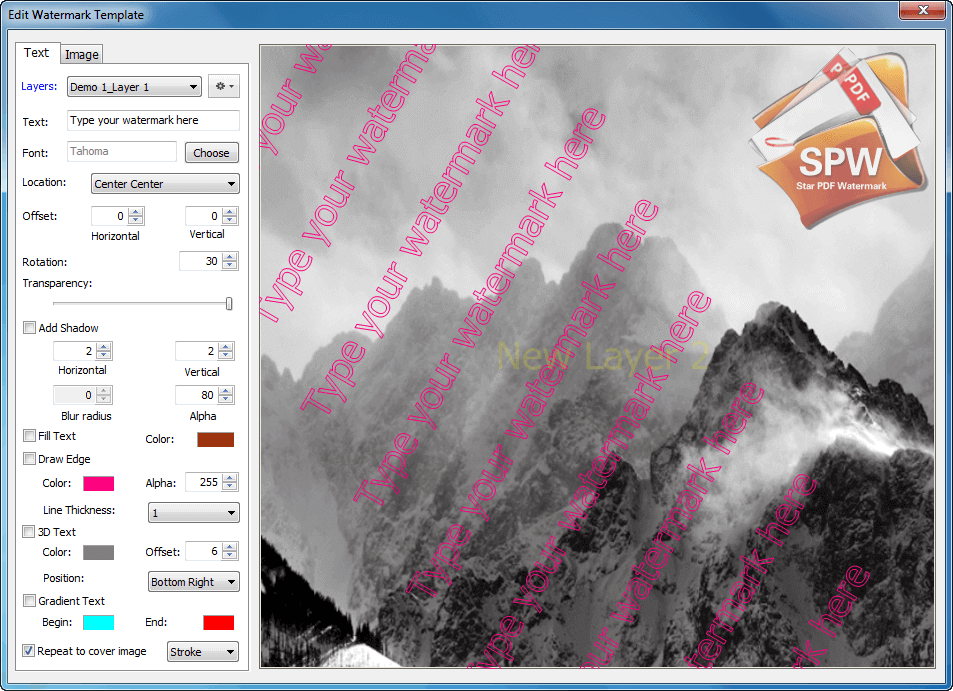 Double-click the left "Demo1" or "Demo 2" to open the "Edit Template dialog box", or select below the "Add Template" menu item to open the dialog box:
OK, now you can set up your various operations for the option in the left panel, such as selecting text watermark panel, you can set the text content, size, color, position, angles, shadows and so on. Select the image watermark panel, you can add a watermark image in your video file in need of protection, and the angle of the watermark image and location.
Step 3: Setting output options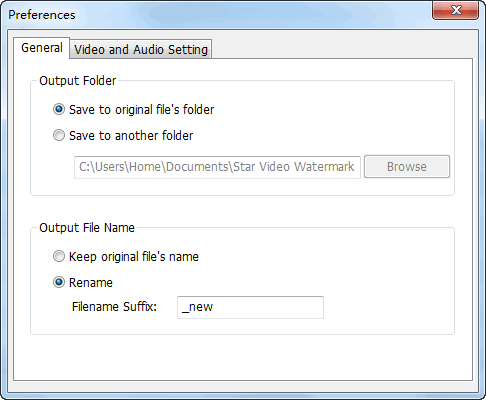 Double-click the "Preferences" button on the toolbar to open the control panel:
In the "General" tab, you can set the output directory, output file suffix, the output format.
Step 4: Apply Watermark to video files

(1) Add files: you have 2 ways to add files, drag and drop files directly into an application program interface, and the other is through the toolbar "Add Files" button to browse the file and add.
(2) Preview Results: Prior to watermark these video file, you can preview the output video files after adding the watermark. Here, you also have 2 ways to open the Preview dialog box, click the "Output Preview" button or double-click a source file.
(3) Start processing: Now, click in the toolbar's "Start Processing" to begin watermark all the source files.
Step 5: View Watermarked video file in Output Folder
After processing finished, the app will open output folder automatically, and you could find the output folder by click "Prefercence" on the toolbar and find "Output Folder" textfield.